Forward From Principal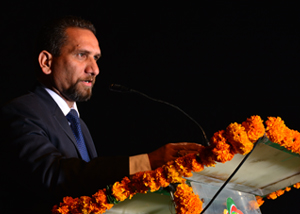 Educational transformations in the 21st century have been challenged and also well received. Revamping of educational systems is in the process and pioneering efforts are being made to take education to another level. Gyan Ganga group is one such leap forward. The very architecture and design of the Gyan Ganga International School, Jabalpur is a clear indicator of the foresight of the Founder Shri D. C. Jain - a visionary and an eminent engineer. I joined Gyan Ganga International School on July 20, 2011, and am convinced that learning in this school environment would be a joy. The quality educational program being offered here is unique and provides for individual needs and differentiated learning within the classroom.
Education of the highest quality is possible in an environment where students feel valued and respected. At GGIS, which is one of the best results School in Madhya Pradesh, democratic ethos pervades every aspect of interaction with students, parents and mentors. It is in such an environment that our students develop an understanding of not just their strengths but also their weaknesses. This in turn leads to a healthy self- respect and increased confidence in their problem solving abilities.
GGIS shoulder the responsibility to mould the future by training the younger generation. This, we strongly feel is the era to revive the age-old Guru Shishya Parampara for the sake of the younger generation, the Global Citizens of tomorrow. With the world coming closer and closer to the concept of a Global Village, the advent and advancement of technology has only increased the pace. An effort has to be made to make the youngsters aware of their ancient Indian culture and the deep rooted ethos of the holy soil of our country. The Gurukul system would be the perfect technique to blend the modern technological advancements and the ancient Indian culture to create a new genre of winning personalities. It is our endeavor to ensure that each of our students are well supported and become lifelong learners and achievers. We, the best residential School in India, envision students planning and implementing their own learning in the near future.
Wishing you all the best towards growing a spontaneous and fruitful soul - searching towards establishing a link with your true identity.
Dr. Rajesh Kumar Chandel
Principal